With 20 years of expertise in this industry, we are able to provide any staff needs that your project may require in an accurately and efficiently way.
We offer you more than 50 job categories, organized into the following areas: Crew, Hostesses, Logistics, Hospitality, Security* and Auxiliary Services .
Our staff is specialized in working at big shows, music concerts, sporting events, corporate events, shootings, trade fairs and promotions.
Do you have a minute? Find out what we can do for you
Request a quote and we will respond you in less than 24 hours
"We have been working with Workout for more than 3 years, with total confidence and every year it gets better and better. We are very satisfied with your absolute implication. You assume our goal as your own, you care for details and you always provide a service up to the expectations. Your agility and flexibility are key to making our daily work easier."
"We finished the II edition of Ninja Warrior and I wanted to thank you for the service provided in Caja Mágica. It was a difficult and long program, with many people, a complicated installation, and as it happened last year, your collaboration has been essential to carry it out successfully. Congratulations to the ENTIRE Workout Team, the support staff and especially the coordinator, for their tireless willingness, kindness, education and effort. See you at Ninja Warrior 3!"
"I just want to thank you for your work and especially to congratulate you for the management of your team at la Noche de Cadena 100. It's a pleasure to work with you because we don't have to worry about the service, which is orderly, coordinated and always follows our instructions."
"I would like to thank you and congratulate the entire Workout Team for the wonderful work carried out at this year's Mutua Madrid Open. Special thanks to your project coordinator who has always been on the ball, congratulations to all of you and see you at next year's edition!"
"I've been working with Workout since they started. I've seen them grow. I've seen them get better and better and bigger. I've seen them getting stronger throughout the years. But from the very first day there is one thing that has not changed, and that's their commitment to help, to making things happen, to see the problems and provide the right solutions. They are always there, 24 hours a day, at any time, facing all the challenges that an event implies, with a remarkable responsiveness."
"Thanks and congratulations for the work done during this edition of MWC, both to the team of promoters, which is very valid for all our actions, and to your staff. A special thanks to the coordinator, always diligent, good understanding and attentive to all my requests. I would also like to mention the selection of the promoters to lead and coordinate the onsite work. Let's keep doing many more projects like this one."
"Thank you very much on behalf of WDi for your management during the Barbie service. Please report our congratulations to all the staff, who have shown professionalism and an excellent attitude. I thank you again for your work and effort, especially your coordinator. Thank you again!"
"Thank you for the service of your team. It was flawless and the Ambassador and his wife were very happy thanks to that. The waiters were great, very professional and efficient. They worked hard and with great initiative to ensure that the party was a success. We're very, very happy. Everything was perfect. My thanks and congratulations to the team."
"We want to thank you for the excellent result of the campaign. This season we have not only improved in the assigned KPIs, but you have also been quick to solve the proposed changes in dates and locations. Congratulations to the entire team, both for the internal and external management. We will continue relying on you as we have been doing for many years in a very satisfactory relationship."
"It is worth mentioning the staff at Workout: effective, willing, agile,discreet, and most importantly ... always available! For us they are absolutely fundamental in carrying out our work. They are part of the PRG team!"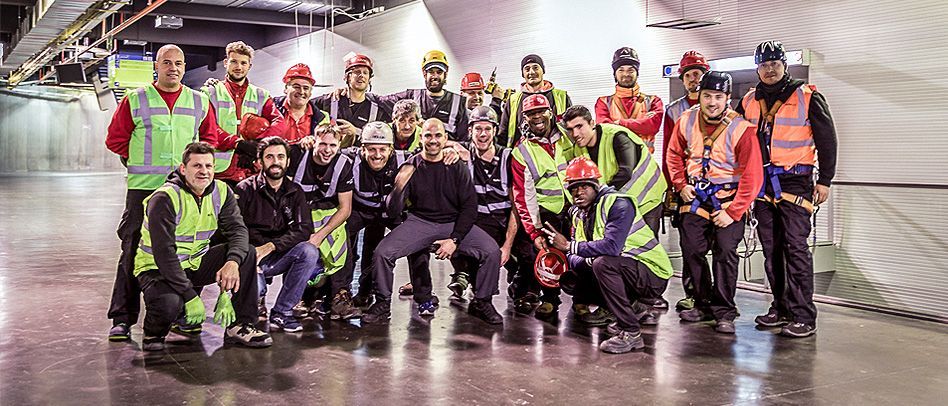 We have continuous personnel selection processes